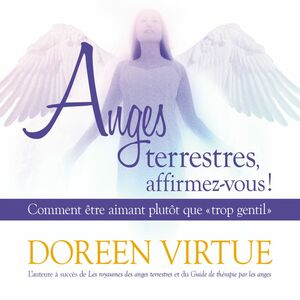 Anges terrestres, affirmez-vous!
Comment être aimant plutôt que «trop gentil»
Doreen Virtue
Les gens abusent-ils de votre gentillesse? Avez-vous de la difficulté à exprimer honnêtement vos sentiments? Si c'est le cas, vous êtes peut-être un ange terrestre. Dans ce livre avant-gardiste, Doreen Virtue enseigne aux anges terrestres — des personnes extrêmement gentilles qui se soucient davantage du bonheur des autres que du leur — à conserver leur paix intérieure et leur nature aimante tout en établissant des limites. Vous allez découvrir comment surmonter votre peur de dire non et comment demander aux autres et à l'univers ce que vous désirez. Anges terrestres, affirmez-vous ! s'adresse à tous ceux qui veulent apprendre l'art d'exprimer haut et fort ce qu'ils pensent dans leurs relations et par rapport aux différentes causes dans le monde qu'ils défendent. Que vous ayez besoin de vous affirmer davantage dans votre famille, au travail ou dans votre travail de guérisseur, vous allez apprécier l'approche douce mais ferme de Doreen pour négocier vos besoins terrestres d'une manière céleste!
Book details
Publisher

Original text

Yes

Language

Original language

Publication date

Page count

Theme
About the author
Doreen Virtue
Doreen Virtue est entre autres l'auteure de Anges 101 et de Guérit avec l'aide des anges. Elle est apparue à Oprah, The View, Good Morning America, CNN ainsi qu'à d'autres émissions; elle anime aussi une tribune téléphonique sur HayHouseRadio.com®.
Reviews
No reviews have been written for this book.