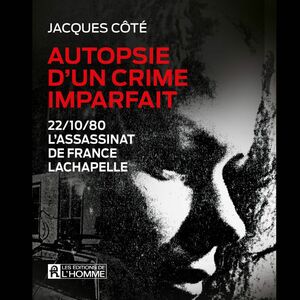 Dans la nuit du 22 octobre 1980, au 540 de la rue de la Tourelle à Québec, une jeune comédienne est assassinée. Quarante ans plus tard, le mystère subsiste: l'homme qui s'est accusé de ce crime abject était-il le véritable coupable?Ce docu-polar revisite l'une des causes judiciaires les plus longues et les plus controversées de l'époque. Grâce aux confidences du lieutenant Jacques Simoneau, aux témoignages d'acteurs de premier plan du drame, mais aussi à la volumineuse preuve de milliers de pages citée aux deux procès, l'auteur reconstitue l'ultime soirée que France Lachapelle a passée avec son ami le metteur en scène Robert Lepage, le dernier à l'avoir vue vivante.Bien que celui-ci soit lavé de tout soupçon, cette expérience le marquera à jamais. Des avocats et des procureurs chevronnés, un pyromane voyeur qui sème la terreur, des questions encore sans réponse aujourd'hui: tous les ingrédients sont réunis pour priver le lecteur de précieuses heures de sommeil. Et pour évoquer le souvenir d'une jeune femme en droit d'attendre bien davantage de la vie.
Book details
Publisher

Language

Publication date

Page count

Theme
About the author
Jacques Côté
Jacques Côté manie la plume noire comme pas un. Plusieurs de ses ouvrages, la plupart des romans policiers, ont été récompensés: prix Arthur-Ellis (2003, 2009 et 2011), Grand Prix La Presse de la biographie et prix Saint-Pacôme du roman policier 2006. Ses derniers romans ont été publiés en France chez Babel Noir / Actes Sud.
Reviews
No reviews have been written for this book.