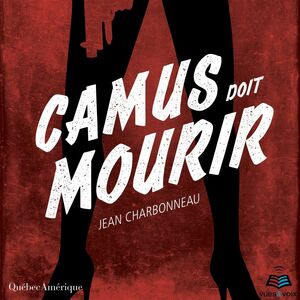 Août 1944. Paris sera bientôt libérée des nazis. Euphorie, panique et barbarie cohabitent sous l'écrasante canicule. Mais avant que ne tombe le rideau, plusieurs croient avoir encore un rôle à jouer, dont Francis Béard, un milicien féroce qui nourrit une obsession : tuer Albert Camus. Non seulement est-il l'auteur des textes les plus éloquents de la Résistance, mais il est selon Béard le seul écrivain à pouvoir faire ombrage à Louis-Ferdinand Céline, son idole. Les choses ne se déroulent toutefois pas comme le milicien l'avait prévu et les Résistants enferment Camus dans une planque secrète. Ce dernier tente de continuer à écrire, mais la folie le guette entre les murs glauques de sa chambre décrépite… Désespéré, il en vient à nourrir sa propre obsession : joindre la lutte armée et tuer un homme, une expérience fondamentale, à ses yeux, afin d'être un bon écrivain. Mais force est d'admettre qu'il est meilleur pour tirer un coup que pour tirer du revolver. Un chassé-croisé déjanté, sanglant, hilarant, brillant.
Book details
Publisher

Original text

Yes

Language

Original language

Publication date

Page count

Theme

Collection
About the author
Jean Charbonneau
Né à Montréal, Jean Charbonneau vit aux États-Unis depuis presque vingt ans. Au fil des ans, il a étudié la création littéraire à la University of Southern Mississippi et à la Boston University. Il a publié des nouvelles en anglais et en français, en plus d'avoir écrit de nombreuses critiques littéraires pour des journaux anglophones. Il travaille présentement comme bibliothécaire dans le système carcéral de l'État du Maryland. Comme un intrus est son premier roman.
Reviews
No reviews have been written for this book.