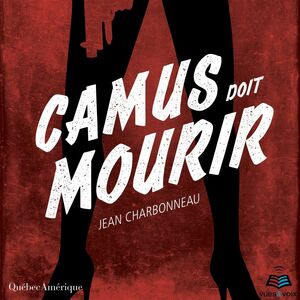 Août 1944. Paris sera bientôt libérée des nazis. Euphorie, panique et barbarie cohabitent sous l'écrasante canicule. Mais avant que ne tombe le rideau, plusieurs croient avoir encore un rôle à jouer, dont Francis Béard, un milicien féroce qui nourrit une obsession : tuer Albert Camus. Non seulement est-il l'auteur des textes les plus éloquents de la Résistance, mais il est selon Béard le seul écrivain à pouvoir faire ombrage à Louis-Ferdinand Céline, son idole.
Les choses ne se déroulent toutefois pas comme le milicien l'avait prévu et les Résistants enferment Camus dans une planque secrète. Ce dernier tente de continuer à écrire, mais la folie le guette entre les murs glauques de sa chambre décrépite… Désespéré, il en vient à nourrir sa propre obsession : joindre la lutte armée et tuer un homme, une expérience fondamentale, à ses yeux, afin d'être un bon écrivain. Mais force est d'admettre qu'il est meilleur pour tirer un coup que pour tirer du revolver.
Un chassé-croisé déjanté, sanglant, hilarant, brillant.
Book details
Publisher

Original text

Yes

Language

Original language

Publication date

Theme
About the author
Jean Charbonneau
Né à Montréal, Jean Charbonneau a obtenu un baccalauréat en histoire et une maîtrise en bibliothéconomie avant d'aller vivre aux États-Unis pendant presque vingt ans. Là-bas, il a étudié la création littéraire et a publié des nouvelles ainsi que de nombreuses critiques littéraires, et a travaillé comme bibliothécaire dans le milieu carcéral. Son deuxième roman, Tout homme rêve d'être un gangster, a remporté le Prix Saint-Pacôme du premier polar. Camus doit mourir est son troisième roman.
Reviews
No reviews have been written for this book.