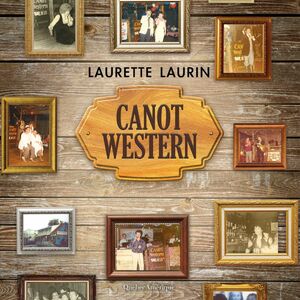 Canot Western, un bar devenu mythique parce qu'au cœur de la culture western pendant plus de trente ans, en mettant en vedette des artistes comme Marcel Martel, la famille Daraîche, Roger Miron, Marie Lord, John Starr, Lévis Bouliane, Paul Brunelle, Renée Martel.
Un bar mythique, aussi parce que la petite Céline Dion y fait ses débuts les dimanches après-midi après les concours d'amateurs. Et mythique enfin, peut-être, parce que le bar appartient au frère d'un ministre qui a marqué l'histoire du Québec : Camille Laurin.
Canot Western, c'est l'histoire d'un bar familial racontée à travers les yeux d'une petite fille. La petite fille deviendra grande, au fur et à mesure de la transformation de la société, depuis la Révolution tranquille, l'éclatement de la religion et des valeurs traditionnelles, jusqu'à la montée de l'indépendantisme, l'avancée du féminisme, la découverte de l'amour libre.
Elle verra sa vie basculer avec l'arrivée de ce bar dans la famille. Saura-t-elle apprendre à se défendre? Saura-t-elle se protéger contre « les brutes et les truands »?
« Un bar western, c'est une bonne école de la vie pour une jeune fille en quête d'émotions fortes. Chaque personne, chaque artiste, chaque client devient un personnage. Avec ses répliques. Ses valeurs. Son drame. Ses enseignements. »
Book details
Publisher

Original text

Yes

Language

Original language

Publication date

Page count

Theme

Collection
About the author
Laurette Laurin
L'écriture a toujours jalonné la vie personnelle et professionnelle de Laurette Laurin, qu'il s'agisse d'un mémoire de maîtrise, d'opinions juridiques ou de rapports ministériels, de corpus de cours ou de communiqués de presse, ou même d'un discours primé à un concours international d'éloquence des barreaux francophones. Elle est avocate et gestionnaire. Coupée au montage est son premier roman.
Reviews
No reviews have been written for this book.