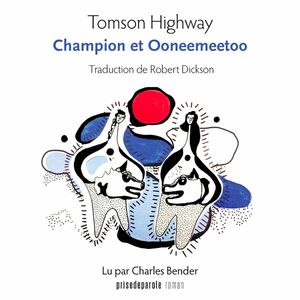 Champion et Ooneemeetoo Okimasis, jeunes Cris du nord du Manitoba, sont arrachés à leur famille et placés dans une école catholique résidentielle du Sud. Aliénés par une culture qu'on leur impose, ils luttent pour leur survie. La Reine blanche, personnage mythique, veille sur eux et les ramène vers l'univers magique dont ils sont issus. L'un deviendra musicien et l'autre danseur. De leur art, un espace de possibilités, un monde nouveau, émergera.
Ce projet a été réalisé grâce au soutien financier d'Ontario Créatif
Book details
Publisher

Language

Publication date

Theme

Collection
About the author
Tomson Highway
Auteur et musicien cri, Tomson Highway est l'un des dramaturges les plus réputés du Canada. Né dans une région isolée du Nord du Manitoba, il a étudié à l'Université du Manitoba, à Londres (Angleterre) et à l'université Western en Ontario d'où il détient des baccalauréats en musique et en anglais. Il a aussi travaillé dans le domaine des services sociaux avant de se tourner vers le théâtre. Il est l'auteur des pièces «The Rez Sisters» (prix Dora Mavor Moore, représente le Canada au Festival international d'Édimbourg et finaliste au prix littéraire du Gouverneur général), et «Dry Lips Oughta Move to Kapuskasing», —(prix Dora Mavor Moore et prix Floyd S. Chalmer). En 1998, Highway publie un premier roman «Kiss of the Fur Queen» (Doubleday Canada), qui obtient un grand succès critique et populaire et devient rapidement un best-seller au Canada. Il a publie également, en anglais et en cri, une trilogie de livres pour enfant intitulée «Songs of the North Wind». De 1986 à 1992, il est directeur artistique de Native Earth Performing Arts Inc., la seule troupe de théâtre autochtone professionnelle de Toronto. En 1994, il est nommé membre de l'Ordre du Canada, devenant le premier auteur autochtone à recevoir cet honneur. Il détient six doctorats honorifiques, le plus récent de l'Université McGill (2006) et est récipiendaire d'un Prix d'excellence aux autochtones. En 2003, L'École nationale de théâtre lui décernait le prix Gascon-Thomas. En février 2006, il était l'invité d'honneur du Festival Voix d'Amériques de Montréal. Les œuvres de Tomson Highway sont au programme d'études dans des écoles et universités canadiennes. De nombreuses universités allemandes ont aussi intégré ses œuvres dans leur programme d'études canadiennes. En 2001, son roman Kiss of the Fur Queen a été traduit en allemand (Der Kuss der Pelzkönigin. Ein indianischer Lebensweg von heute, Frederking & Thaler). Il parle couramment le cri (sa langue maternelle), l'anglais, le français et … la musique!
Reviews
No reviews have been written for this book.