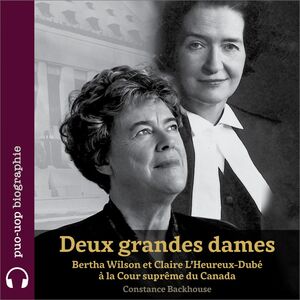 Bertha Wilson et Claire L'Heureux-Dubé ont été les premières femmes juges à la Cour suprême du Canada. L'une représentait le Canada anglais, l'autre le Québec. De milieux et de tempéraments opposés, les deux femmes ont affronté des défis similaires. Leurs nominations judiciaires dans les années 1980 ont ravi les féministes et bousculé l'establishment juridique.
Constance Backhouse plonge ici au cœur des obstacles sexistes que les deux femmes ont affrontés en éducation, en pratique du droit et dans les cours de justice. Elle explore les divers moyens que celles-ci ont utilisés pour les surmonter, de même que les décisions marquantes qu'elles ont prises pour défendre les droits des femmes et leur traitement mitigé de la question raciale.
Explorer les vies et les carrières de ces deux pionnières, c'est s'aventurer dans un monde de sexisme légal appartenant à une époque passée. Quand L'Heureux-Dubé a voulu s'inscrire à la Faculté de droit de l'Université Laval (défiant ainsi son père), un fonctionnaire de l'université lui a répondu que le droit était une discipline « réservée aux hommes ». Quand Bertha Wilson est entrée à la Faculté de droit de Dalhousie University, le doyen lui a suggéré de « retourner à la maison et se mettre au crochet ».
Book details
Publisher

Language

Publication date

Theme
About the author
Constance Backhouse
Constance Backhouse is Professor of Law at the University of Ottawa. She has published a number of prize-winning books: Petticoats & Prejudice: Women and Law in Nineteenth-Century Canada; Colour Coded: A Legal History of Racism in Canada; The Heiress vs the Establishment: Mrs. Campbell's Campaign for Legal Justice; Carnal Crimes: Sexual Assault Law in Canada 1900–1975; and Claire L'Heureux-Dubé: A Life. She was named to the Order of Canada in 2008.
Reviews
No reviews have been written for this book.