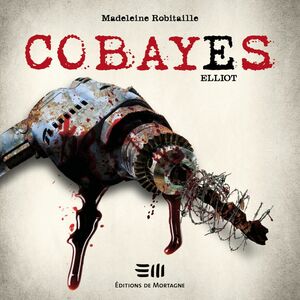 Pervers ? Bizarre ? Asocial ? Je me fous royalement de ce que le monde pense de moi.
Il n'y a que moi qui compte, mon plaisir et ma liberté. Je n'ai pas d'amis et je n'en veux pas. Mon monde intérieur, ce qui s'y trouve, n'appartient qu'à moi. Personne ne sait qui je suis réellement ; ça vaut mieux ainsi. Je travaille deux ou trois jours par semaine. Je pourrais bosser à temps plein – mon patron me l'a offert –, mais ça nuirait à mon autre passe-temps, qui nécessite préparation et prudence… Mon seul problème, c'est que j'aimerais gagner plus d'argent. J'en ai besoin pour finir mes travaux dans la pièce insonorisée. Si je veux l'utiliser, un jour… Je devrais peut-être creuser du côté de ce laboratoire, celui qui cherche des candidats pour tester un nouveau médicament. Ça paie drôlement bien ! Avec tout ce fric, ma salle de jeux serait rapidement opérationnelle.
Découvrez l'univers de COBAYES à travers la plume de sept auteurs différents. L'horreur et le suspense vous attendent dans les sept romans de cette série, à lire dans l'ordre… ou dans le désordre !
Book details
Publisher

Language

Original language

Publication date

Page count

Theme

Collection
About the author
Madeleine Robitaille
Deuxième d'une famille de cinq enfants, Madeleine est née à Mont-Laurier dans les années 60 d'une mère artiste et d'un père touche-à-tout. Bien qu'elle ait vécu dans de nombreuses régions du Québec, c'est dans la magnifique municipalité de Mont-Laurier qu'elle a trouvé un chez-soi. Le goût de l'écriture a été présent chez elle dès l'adolescence, mais ce n'est qu'à l'âge adulte qu'elle se lance dans la rédaction d'un premier roman. Quelques autres ont suivi, toujours écrits d'abord pour son plaisir personnel. Madeleine est très inspirée par les sursauts de la météo : la chaleur, le froid, la pluie, l'orage, la neige… autant de caprices de mère Nature qui deviennent des prétextes pour faire naître une histoire. Profitant de sa facilité à se mettre à la place des autres, Madeleine adore explorer le côté psychologique de ses personnages. De son point de vue, ses romans (Le quartier des oubliés, Les orphelins du lac, Dans l'ombre de Clarisse, Chambre 426 et Cobayes – Elliot) sont essentiellement des thrillers psychologiques. Avec Adolescence sacrifiée, son plus récent roman, elle fait une première incursion dans la littérature pour les adolescents.
Reviews
No reviews have been written for this book.