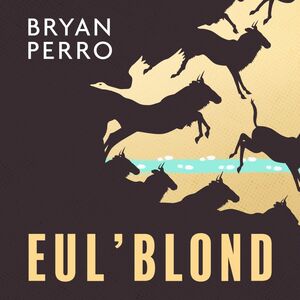 "Eul'blond est l'expression préférée du grand gnou pour nommer son fils, son gaou. Ce surnom étant un savant mélange d'avertissements et de recadrage, il est aussi le cri hiérarchique du géniteur envers sa progéniture. Et ce, même si son prolongement n'est pas blond, mais plutôt brun. La grande migration des gnous de 1980 se prépare à Montréal. Eul'blond a douze ans et s'apprête, sans le savoir, à entrer dans le rituel de passage propre à sa race. Accompagné de son géniteur, son père et entraîneur, le veau subira une aventure en quarante-deux chapitres, en quarante-deux kilomètres. Il s'agit du parcours autobiographique, métaphorique aussi, dans une enfance atypique au sein d'un troupeau de gnous de Shawinigan. La jeunesse invraisemblable de l'auteur Bryan Perro, tiraillée entre la nature fragile d'un enfant et les principes dogmatiques de son parent, est une grande réflexion sur l'innocence au coeur même d'un marathon, au centre d'un voyage initiatique aux multiples dangers."
Book details
Publisher

Language

Publication date

Theme
About the author
Bryan Perro
"Auteur de plusieurs pièces de théâtre, il lance en 2003 les premiers tomes de sa série jeunesse Amos Daragon qui deviendra l'une des séries les plus vendues avec 1 700 000 de titres écoulés dans la francophonie canadienne. Traduit dans vingt-deux langues et présent dans vingt-six pays, Bryan Perro demeure à ce jour l'un des auteurs québécois les plus lus autour du globe."
Reviews
No reviews have been written for this book.