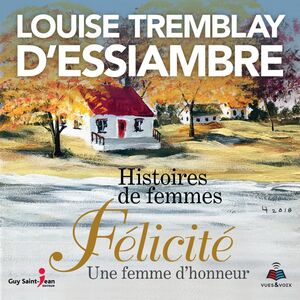 Voici la suite attendue des tribulations de trois familles québécoises de classes différentes au tournant des années 1920.
Après avoir goûté au bonheur de travailler au manoir des O'Gallagher, le destin forcera-t-il la jeune Marion à retourner auprès de sa famille où sa mère a besoin d'aide pour diriger la maisonnée pendant une grossesse qui s'annonce difficile? Et que deviendra Ovide, le fils aîné des Couturier qui s'est volatilisé dans des circonstances obscures?
La vie a parfois cette façon de compenser les coups durs par de belles surprises, surtout pour la famille Lafrance. Reconnaissance et retrouvailles en apporteront la preuve. Émotions fortes en perspective, tant pour les gens du manoir que pour la famille Lafrance.
Un second tome puissant dans lequel on retrouve quelques personnages de la série à succès Une simple histoire d'amour. Une preuve flamboyante que la solidarité triomphe dans une vie qui n'a que faire des origines et des classes sociales.
Book details
Publisher

Original text

Yes

Language

Publication date

Page count

Theme

Series
About the author
Louise Tremblay d'Essiambre
La réputation de Louise Tremblay-D'Essiambre n'est plus à faire. Auteure de plus d'une vingtaine d'ouvrages et mère de neuf enfants, elle est certainement l'une des auteures les plus prolifiques du Québec. Finaliste au Grand Prix littéraire Archambault en 2005, invitée d'honneur au Salon du livre de Montréal en novembre 2005, elle partage savamment son temps entre ses enfants, l'écriture et la peinture, une nouvelle passion qui lui a permis d'illustrer plusieurs de ses romans. Son style intense et sensible, sa polyvalence, sa grande curiosité et son amour du monde qui l'entoure font d'elle l'auteure préférée d'un nombre sans cesse croissant de lecteurs. Sa dernière série, MÉMOIRES D'UN QUARTIER a été finaliste au Grand Prix du Public La Presse / Salon du livre de Montréal 2010. Elle a aussi été Lauréate du Gala du Griffon d'or 2009 -catégorie Artiste par excellence-adulte et finaliste pour le Grand prix Desjardins de la Culture de Lanaudière 2009.
Reviews
No reviews have been written for this book.