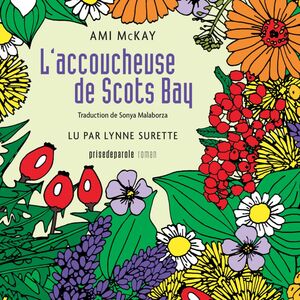 Immense succès en version originale anglaise (250 000 exemplaires vendus), L'accoucheuse de Scots Bay retrace la vie mouvementée de Dora Rare, une jeune fille née dans un village isolé de Nouvelle-Écosse au début du siècle dernier. S'écartant de la voie tracée pour elle par sa famille, elle décide de suivre les pas d'une mystérieuse sage-femme d'origine cadienne, M'ame B., et d'exercer ses dons de guérisseuse. Ensemble, elles viennent en aide aux femmes aux prises avec des problèmes d'infertilité, des accouchements difficiles, des grossesses non désirées ou même des vies sexuelles insatisfaisantes. Mais leur engagement à utiliser les savoirs transmis depuis des générations par les sages-femmes ne plaît pas à tout le monde – aux médecins, surtout, qui y voient un obstacle à leur pratique – et va leur causer de graves ennuis. L'accoucheuse de Scots Bay ouvre une fenêtre fascinante sur les réalités de la vie en milieu rural au Canada atlantique au début du siècle dernier et laisse entrevoir les luttes qu'ont dû mener les femmes pour protéger leurs droits et, en premier lieu, celui de disposer de leur corps.
Book details
Publisher

Language

Publication date

Theme
About the author
Ami Mckay
Romancière, dramaturge et journaliste, Ami McKay a écrit quatre romans acclamés par la critique — The Birth House (2006), The Virgin Cure (2011), The Witches of New York (2016) et Half Spent Was the Night (2018). Son récit autobiographique Daughter of Family G (2019) lui a valu un prix d'excellence en journalisme. Formée en musique et en musicologie, l'autrice a grandi en Indiana, aux États-Unis. Elle habite aujourd'hui à Scots Bay, en Nouvelle-Écosse.
Reviews
No reviews have been written for this book.