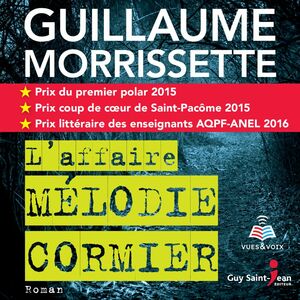 La petite Mélodie Cormier, 10 ans, a disparu. Elle s'est volatilisée, un jeudi matin ordinaire. Ses parents l'ont vue monter dans l'autobus scolaire, mais elle ne s'est jamais rendue jusqu'à la cour d'école. Le mystère est total. Ailleurs dans la ville, Marco Genest reçoit des messages étranges. Un correspondant anonyme affirme détenir des renseignements sur la mort accidentelle de ses parents, survenue plusieurs mois plus tôt. Accidentelle, vraiment? Alors que Marco et l'enquêteur Héroux tentent de démêler leurs intrigues respectives, les liens entre elles deviennent troublants. Mais si les parents de Marco sont décédés, la petite Mélodie, elle, est toujours vivante, au moins jusqu'à preuve du contraire…
Chargé de cours à l'UQTR, Guillaume Morrissette est récipiendaire du Prix d'excellence en enseignement 2012, plus haute distinction honorifique remise à un chargé de cours. Polymathe depuis l'adolescence et membre actif de MENSA Canada, l'auteur réside à Trois-Rivières. Après avoir publié La maison des vérités en 2013, il remet ça avec L'affaire Mélodie Cormier qui marque le début des aventures de l'inspecteur Héroux.
Book details
Publisher

Language

Publication date

Page count

Theme
About the author
Guillaume Morrissette
Polymathe et membre actif de MENSA Canada, Guillaume Morrissette habite à Trois-Rivières et enseigne à l'UQTR. Après cinq enquêtes de l'inspecteur Héroux (L'affaire Mélodie Cormier, Terreur domestique, Des fleurs pour ta première fois, Deux coups de pied de trop et Le tribunal de la rue Quirion), Guillaume Morrissette nous offre le premier texte 100% québécois de la collection Psycho Thriller.
Reviews
No reviews have been written for this book.