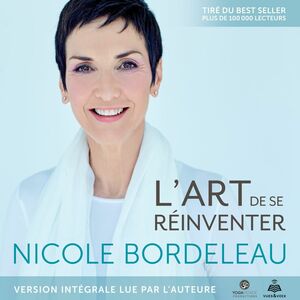 Souhaiteriez-vous vivre le meilleur de votre vie, aujourd'hui même? Ce livre est pour vous! À la fois coffre à outils, aidemémoire et compagnon de route, il vous convie à une réelle transformation de votre monde intérieur. Nicole Bordeleau y partage les enseignements, les situations, les pensées et les exercices qui ont été les plus significatifs et les moteurs les plus puissants dans sa vie personnelle. Elle enseigne un art de se réinventer qui n'implique pas de changer son apparence, de fuir au bout du monde ou de tout laisser tomber. La transformation qu'elle propose est beaucoup plus profonde. Se réinventer, c'est avoir le courage de transcender ses peurs, c'est apprendre de nos erreurs, c'est nourrir des projets et des rêves tout en appréciant le moment présent. C'est aussi laisser aller le passé, et enfin, ouvrir son esprit à un monde qui ne cesse de se renouveler. Voilà l'invitation qui vous est lancée.
LIRE UN EXTRAIT
Book details
Publisher

Language

Publication date

Page count

Theme
About the author
Nicole Bordeleau
Nicole Bordeleau est maître de yoga, auteure et conférencière. Cofondatrice de YogaMonde, elle pratique la méditation depuis vingt-cinq ans et l'enseigne depuis quinze ans. Considérée comme l'une des principales références au Québec sur le mieux-être, elle a publié une douzaine d'ouvrages sur le sujet, dont Zénitude et double espresso et L'art de se réinventer. Elle signe ici un livre des plus inspirants sur la méditation.
Reviews
No reviews have been written for this book.