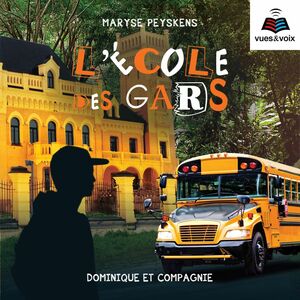 C'est la rentrée des classes. Pour la première fois de sa vie, Rémi a hâte de partir pour l'école. En effet, il a été admis dans un établissement scolaire pas comme les autres: l'École des gars. Pourtant, Rémi reste sur ses gardes : existe-t-il vraiment une école qui l'acceptera tel qu'il est, malgré ses problèmes d'hyperactivité? Notre héros découvrira bientôt un endroit époustouflant, des activités passionnantes, des enseignants motivants et de nouveaux amis. Mais le plus incroyable, c'est le mystérieux Foinfoin...
Book details
Publisher

Language

Publication date

Page count

Theme

Collection

Audience
About the author
Maryse Peyskens
Maryse Peyskens a longtemps travaillé auprès d'enfants handicapés et de personnes âgées. Sexologue de formation, elle a animé de nombreux ateliers et conférences dans différents milieux (organismes communautaires, écoles, centres de détention, etc.). Ces dernières années, elle a ralenti la cadence pour se consacrer davantage à ses trois enfants. Elle en a aussi profité pour se mettre à l'écriture, non seulement par pur plaisir, mais aussi pour exprimer de façon fantaisiste quelques-unes de ses observations et de ses pensées. L'École des Gars, son premier roman, est né d'une réflexion portant sur la condition des jeunes garçons dans notre système scolaire actuel. Cette histoire se veut une réponse amusante et originale aux frustrations et aux difficultés vécues par certains élèves et leurs parents. Maryse Peyskens s'est bien amusée en imaginant les aventures de 30 gars affectueusement surnommés « les petits tannants bourrés de talents », supervisés par une équipe d'enseignants passionnés. Tout comme ses jeunes héros, l'auteure a un petit faible pour Foinfoin… Il faut dire que ce drôle de personnage fait en quelque sorte partie de sa famille. Créé au début des années 60 par le père de Maryse, Foinfoin était un héros de bande dessinée, qui avait, à l'époque, remporté un vif succès au Salon du Livre de Montréal. Décidément, il a un charme fou, ce Foinfoin !
Reviews
No reviews have been written for this book.