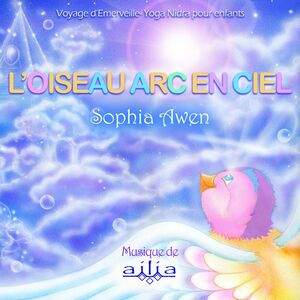 " L'Oiseau Arc en Ciel est un voyage d'émerveille, une relaxation guidée adapté aux enfants selon la méthode du Yoga Nidra, accompagné par la musique de AiliA. Le Yoga Nidra est l'ancêtre de toutes les techniques de Relaxation et de la Sophrologie moderne. Il équilibre tous les aspects de l'Etre ; physique, émotionnel, nerveux, mental, spirituel, et apporte un état de quiétude et de ressourcement. L'Oiseau Arc en Ciel régénère et repose l'enfant tout en induisant un état de paix et de douceur. Harmonisé, l'enfant pourra ensuite poursuivre sa journée ou bien s'endormir…
Important: Vérifiez qu'aucun bruit ne puisse sortir brusquement l'enfant de la relaxation (sonnerie de téléphone, etc…) Si l'enfant s'endort pendant le Nidra, c'est bien, laissez jouer l'enregistrement, il se réveillera naturellement encore plus reposé."
About the author
Sophia Awen
"Auteur-illustratrice, peintre stellaire, professeur de yoga Satyananda, guide de danse des Etoiles (danse pleine-conscience). Sophia est également publiée aux Editions Exergue + le Courrier du Livre Jeunesse-Tredaniel pour: ""la Ronde des Anges"" Cartes oracles pour tous"" & ""Omma la Licorne"" ( Voyage d'émerveille + relaxation guidée audio). Elle est également publié chez Monbeaulivre.com pour Lili et le Papillon bleu, ainsi que Le Peuple Cristal. Et toujours au long du chemin, cette envie de dire à tous: "" Bienvenue belle âme! Souviens-toi du monde brillant et de la merveilleuse lumière que tu es !"" Sophia vit près de Saint malo en Bretagne. "
Reviews
No reviews have been written for this book.