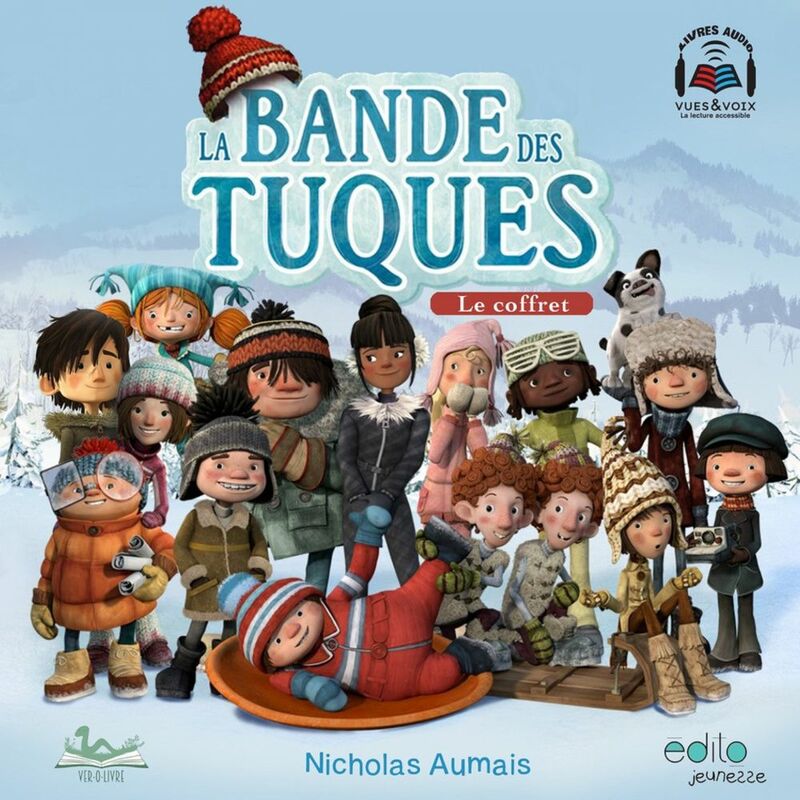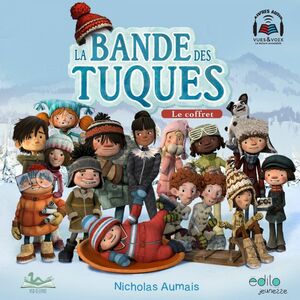 Coffret comprenant 3 titres:
La course des tuques L'hiver est revenu. Les Tuques se préparent pour le concours annuel d'ingéniosité. François les Lunettes a bien hâte de montrer une fois de plus tout son génie à ses amis. Mais Zac, le nouveau du village, arrive avec une luge spectaculaire ! Pendant la course, c'est la catastrophe : la luge de François se désagrège. Comment est-ce possible ? Zac est-il un redoutable inventeur ou un simple tricheur ? François va devoir montrer à Zac qui est le meilleur. Car après tout, la caboche bat toujours les tout croches !
Luc et les mystérieuses disparitions En jouant à la cachette avec d'autres membres de la bande des tuques, Luc constate avec horreur qu'on a volé le précieux clairon de son père. Sophie, Jacques, Charlie et son cousin Zac se livrent aussitôt à une enquête avec le seul indice trouvé sur la scène du crime : l'empreinte d'une botte d'enfant. Mais les vols ne s'arrêtent pas là ! La luge de Jacques disparaît à son tour, puis la collection de livres de Sophie… C'est assez ! Plus solidaires que jamais, Luc et ses amis se penchent sur tous les indices laissés par le malfaiteur pour découvrir son identité. Après tout, tout le monde se connaît au village, non ? Mais ce ne sera pas si facile et les obstacles seront nombreux pour arriver à la vérité. À travers une série d'aventures rocambolesques et une bonne dose d'humour, Luc et la bande découvriront le coupable… et ils n'en croiront pas leurs yeux !
Lucie et la légende des lingots d'or Lucie apprend que la petite école du village où vont tous les membres de la bande des tuques va fermer ses portes à la fin de l'année scolaire pour des raisons économiques. Alors qu'elle annonce la terrible nouvelle à Maranda, celui-ci lui raconte une ancienne légende familiale à propos de lingots d'or cachés par son grand-père dans le village. Véritable aventurière qui n'a pas froid aux yeux, Lucie fait appel à des amis de la bande des tuques pour l'aider à élucider le mystère et trouver les lingots qui pourraient sauver l'école du village ! Accompagnée de sa soeur Sophie, mais aussi de Maranda l'apprenti espion, de France la grande lectrice et de l'hilarant mais attachant Chabot, Lucie suit les indices un par un. Solidaires comme jamais, ils se lancent sur des pistes remplies de péripéties… et de fous rires ! La légende peut-elle VRAIMENT être vraie ?! Peu importe, Lucie et ses amis doivent absolument tenter de trouver ces lingots pour sauver leur école !
Book details
Publisher

Language

Original language

Publication date

Theme

Series
About the author
Nicholas Aumais
Depuis toujours, Nicholas Aumais se passionne pour la littérature jeunesse. Après des études en linguistique, il a été directeur des communications et de la promotion pour Bayard Canada Livres. Il est également traducteur et auteur de plusieurs albums jeunesse dont La guerre, la guerre, c'est pas une raison pour se faire du mal !, tiré du film d'animation La Guerre des Tuques 3D.
Reviews
No reviews have been written for this book.