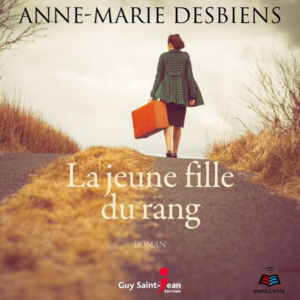 Une histoire d'amour, de deuils et de liberté au temps de la Grande Noirceur. Éblouissant! 1948. Lorsque Françoise, 17 ans, douée pour les études, se voit refuser la possibilité de suivre son cours classique pour accéder à l'université, elle se rebelle. Lasse d'une vie choisie par ses parents, elle succombe aux avances de Léopold Daumais, un intrigant célibataire de 35 ans. D'abord destinée à défier sa mère, cette relation se transforme pourtant en un amour passionné. Puis, survient la grande demande. C'est là que tout se gâte. D'un village des Cantons-de-l'Est au foyer cossu d'un notaire à Montréal en passant par les rives du Bas-du-Fleuve, la quête de liberté de cette jeune femme déterminée nous plonge dans le Québec d'une époque pas si lointaine où les femmes luttent pour leurs droits et leur place dans une société duplessiste. Chercher sa vérité, contrôler sa destinée, transgresser les interdits… Françoise l'apprendra à ses dépens : tout ça a un prix. Une nouvelle auteure à découvrir absolument!
Book details
Publisher

Original text

Yes

Language

Publication date

Page count

Theme
About the author
Anne-Marie Desbiens
Après des études à l'École nationale de théâtre du Canada, Anne-Marie Desbiens se consacre au théâtre pendant 20 ans. Parallèlement, elle écrit plusieurs textes et nouvelles pour la radio de Radio-Canada, dont l'une a été publiée et sélectionnée pour le Prix du récit – Prix littéraires de Radio-Canada. Depuis 2003, elle est conceptrice-rédactrice. Elle participe également à un blogue littéraire et anime des ateliers d'écriture créative. La jeune fille du rang est son premier roman. Native de Cowansville, elle habite le quartier Villeray, à Montréal.
Reviews
No reviews have been written for this book.