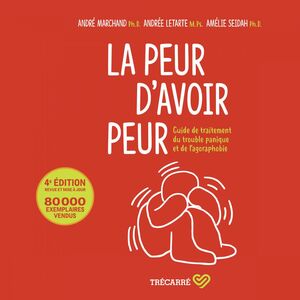 "La quatrième edition mise a jour d'un classique Les personnes atteintes de trouble panique et d'agoraphobie craignent d'être submergées par l'émotion et les sensations de peur, redoutant même d'en mourir ou d'en garder de graves séquelles. Elles perdent alors une part de leur autonomie en évitant des situations et des endroits qu'elles ont associés au danger perçu. Inquiètes, elles se demandent où trouver le soutien nécessaire pour s'en sortir. Cet ouvrage décrit bien ce que ces personnes peuvent ressentir. Il leur explique clairement pourquoi ce qu'elles vivent n'est pas dangereux, et fournit des informations détaillées et enrichies et des stratégies simplifiées qui les aideront à se traiter elles-mêmes par l'entremise de méthodes thérapeutiques éprouvées et issues des plus récentes études dans le domaine. Guide pratique qui permet de vaincre sa peur et son anxiété efficacement, ce livre est également un outil de référence pour les professionnels de la santé mentale lors de l'évaluation et du traitement du trouble panique et de l'agoraphobie."
Book details
Publisher

Language

Original language

Publication date

Theme
About the author
Andrée Letarte
ANDRÉE LETARTE, M. Ps., psychologue clinicienne et formatrice pendant vingt-sept ans, est aujourd'hui gestionnaire dans le réseau de la santé. Un intérêt indéfectible pour le traitement des troubles anxieux continue de l'animer.
André Marchand
ANDRÉ MARCHAND, Ph. D., professeur associé au département de psychologie de l'UQAM et chercheur associé au Centre de recherche de l'Institut universitaire en santé mentale de Montréal, poursuit ses recherches dans le domaine de l'évaluation et du traitement des troubles anxieux et du trouble de stress post-traumatique.
Amélie Seidah
AMÉLIE SEIDAH, Ph. D. est psychologue clinicienne en pratique privée depuis quinze ans auprès d'une clientèle adulte et adolescente. Spécialisée dans le traitement cognitivo-comportemental des troubles anxieux, elle offre également des services de supervision clinique et de formation auprès d'intervenants dans le réseau de la santé.
Reviews
No reviews have been written for this book.