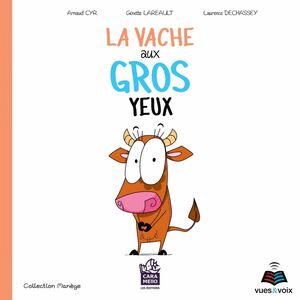 Avoir de gros yeux apporte beaucoup de joie à Meuvette, la belle vache du fermier, Monsieur Pissenlit. Hélas, un jour, ses yeux rapetissent. La bête est peinée. Elle se met à chercher une solution. Persévérante, elle saura trouver, parole de jeune auteur.
Book details
Publisher

Original text

Yes

Language

Original language

Publication date

Page count

Illustrator

Theme

Collection

Audience
About the author
Arnaud Cyr
Arnaud Cyr, jeune garçon de 7 ans, déborde d'imagination. Sa passion pour les animaux l'anime. Il a choisi de parler de la vache, animal qu'il affectionne parmi les autres. Il a démontré un intérêt soutenu tout au long de sa création. On peut le qualifier d'enfant-auteur. Il a écrit avec Ginette Lareault, La vache aux gros yeux (2017), illustré par Laurence Dechassey.
Ginette Lareault
Toute jeune, elle est attirée par le monde de la création, elle est rêveuse. Elle fait ses études primaires et secondaires à Pointe-aux-Trembles. Elle aime écouter des histoires, en raconter à l'école. Elle poursuit ses études collégiales avec option latin et littérature. Elle obtient son baccalauréat en pédagogie spécialisation français. Enseignante au secondaire, elle travaille plus particulièrement en deuxième et troisième secondaire. Elle bifurque quelques années en faisant du journalisme et en travaillant comme recherchiste. Elle revient à l'enseignement où elle enseigne le français dont le conte pendant quelques années. Elle consacre de longues périodes de sa vie à l'écriture sous plusieurs formes tels le roman, la poésie après avoir fait des chroniques, des articles de journaux. Elle décide d'écrire enfin des contes pour enfants. Elle s'amuse à dire que c'est à son tour de faire ses devoirs. Elle s'inspire de ses petits-enfants. Elle commence l'écriture des livres de la collection Les Larcyberda en 2009. En 2012, elle travaille avec l'illustratrice Diane Girard. Elles publient le premier volume de la collection avec les Éditions Caramello en octobre de la même année. Le deuxième est publié en décembre. En 2013, le troisième parait en mars. Deux autres contes sont attendus pour la fin de l'été 2013. La collection prévoit publier 12 volumes.
Reviews
No reviews have been written for this book.