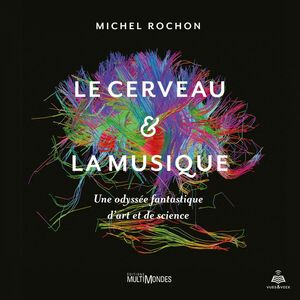 Un son, une note, une mélodie et voilà… le cerveau en effervescence. Mais pourquoi certains airs arrivent-ils à nous tirer des larmes, à nous donner la chair de poule, à nous enthousiasmer ou à nous faire danser ? Pourquoi sommes-nous touchés par les symphonies de Beethoven, par les performances vocales de Céline Dion, par les reels endiablés de Ti-Jean Carignan ou encore par les concerts d'Arcade Fire ?
Bien sûr, tout commence par l'oreille. Les ondes sonores produites par un piano, une flûte ou un violon s'y engouffrent et sont transformées en influx nerveux pour rejoindre diverses régions du cerveau.
Journaliste scientifique aguerri, Michel Rochon nous entraîne dans une exploration fascinante du cerveau musical. Il nous révèle les plus récentes découvertes en intelligence artificielle, en neuropsychologie, en linguistique et même en mathématiques qui nous font comprendre autrement les harmonies sonores. Nous ne sommes d'ailleurs pas au bout de nos surprises, car les chercheurs cernent de mieux en mieux les bienfaits cliniques et thérapeutiques de la musique.
En fermant ce livre, vous ne pourrez plus entendre du rock, du jazz, du classique, de l'opéra, du traditionnel, du rap ou de la techno de la même manière. Et il n'y a aucun doute : c'est la musique qui nous a rendus plus humains.
Book details
Publisher

Original text

Yes

Language

Original language

Publication date

Page count

Theme
About the author
Michel Rochon
Michel Rochon est journaliste scientifique et médical. Pendant 30 ans, il a travaillé au sein de plusieurs équipes d'information à Radio-Canada, notamment pour les émissions Découverte, Enquête, La semaine verte et Le Téléjournal. Il est conférencier, animateur et… pianiste.
Reviews
No reviews have been written for this book.