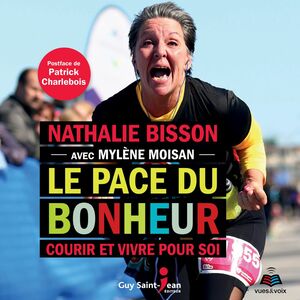 - Je dois m'occuper des enfants. - Je travaille à temps plein. - Je n'ai jamais vraiment fait de sport. - J'ai fumé pendant 22 ans.
Pour se convaincre de ne pas bouger, Nathalie Bisson disposait d'une foule de bonnes excuses. Elle aurait pu aussi invoquer le fait que son corps lui fait des misères : une maladie dégénérative s'attaque à ses articulations. Mais non. Au lieu d'un fauteuil roulant, elle a acheté un vélo stationnaire. En neuf ans, elle est passée de sédentaire à marathonienne. Sa recette? Elle a troqué la performance pour la persévérance et compris que rien ne sert de toujours courir. À la surenchère des chronos, elle oppose son «pace du bonheur», une cadence qui la fait alterner entre marche et course, selon les humeurs de son corps, avec le fil d'arrivée comme seul objectif. Et ce qui vaut pour la course vaut pour la vie! L'histoire de Nathalie Bisson est toute simple : c'est celle d'une femme qui avance toujours, un pas à la fois, jusqu'au bout.
Book details
Publisher

Language

Publication date

Contributions author

Theme
About the author
Nathalie Bisson
Lumineuse, déterminée, d'un optimisme à toute épreuve et d'une énergie qui fait envie, Nathalie Bisson, en plus d'être fondatrice du Pace du bonheur, est une conférencière recherchée. Elle est également ambassadrice de La clinique du coureur, de La marche contre la douleur et des vêtements Moov Activewear.
Reviews
No reviews have been written for this book.