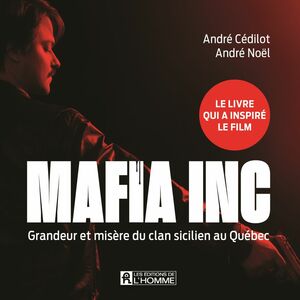 Montréal, 1978. Alors que survient l'assassinat du parrain calabrais Paolo Violi, nul ne devine l'ampleur de la «machine» mafieuse qui se cache derrière ce meurtre. Pour le clan adverse des Siciliens, c'est le début d'une épopée qui va durer plus de 30 ans.
Après avoir échappé à la justice pendant des décennies, les chefs mafieux Nicolò et Vito Rizzuto sont arrêtés et condamnés au milieu des années 2000, l'un à Montréal et l'autre aux États-Unis. Or, dans le cœur du clan sicilien, frappé d'une série de meurtres stratégiques, la débandade continue.
Dans un style vivant et fouillé, Mafia inc. dévoile comment les deux parrains montréalais ont bâti, par la force et la corruption, un empire devenu à coups d'alliances et de compromis l'une des grandes puissances du crime organisé en Amérique du Nord. S'appuyant sur une abondante documentation judiciaire, sur des révélations policières et sur des confidences de proches de la famille Rizzuto, retracés jusque dans leur village natal de Cattolica Eraclea en Sicile, les auteurs reconstituent l'histoire de cette organisation tentaculaire et toute-puissante dont les ramifications, qui s'étendent partout dans le monde, sont ostensiblement liées aux pouvoirs politiques et au milieu des affaires.
Cette nouvelle édition mise à jour relate les derniers événements qui ont secoué le milieu de la mafia montréalaise depuis 2010. La saga se poursuit...
Book details
Publisher

Language

Original language

Publication date

Theme
About the author
André Cédilot
André Cédilot a été chroniqueur judiciaire à La Presse pendant 35 ans. Spécialiste de la mafia italienne et du crime organisé, il intervient régulièrement comme consultant dans des documentaires et des séries télévisées. En 1995, il a reçu le prix international Gil Amoroso pour ses reportages sur les bandes de motards.
André Noël
André Noël a été journaliste à La Presse pendant près de 30 ans. Ses nombreuses enquêtes lui ont permis de remporter cinq fois le prix Judith-Jasmin, deux fois le Concours canadien de journalisme, le prix Michener du Gouverneur général et le prix du Centre canadien pour le journalisme d'enquête. Il a aussi été enquêteur et rédacteur à la commission Charbonneau.
Reviews
No reviews have been written for this book.