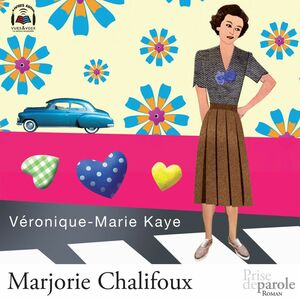 PRIX LITTÉRAIRE TRILLIUM 2016
Dans un quartier populaire d'Ottawa au milieu du siècle dernier, Marjorie Chalifoux, jeune couturière de dix-neuf ans, mène une vie rangée et silencieuse à l'ombre d'un père irascible – un homme étrange rompu dans l'art de la conversation avec les morts. Son existence tranquille prendra un tournant inattendu, et pour cause : elle est enceinte d'un amoureux qui a eu la mauvaise idée de mourir dans un accident de voiture… Et elle doit l'annoncer à son père ! Poussée par le destin, elle cherchera à donner un nouveau sens à sa vie. Son périple, qui la mènera jusqu'à Montréal, lui fera rencontrer des personnages plus étonnants les uns que les autres. Elle goûtera à l'amour, aux plaisirs de la chair et apprendra – à son propre étonnement – qu'au fond d'elle-même se cachait une femme déterminée, débrouillarde, têtue et manifestement charmante.
Ce projet a été réalisé grâce au soutien financier d'Ontario Créatif
Book details
Publisher

Language

Original language

Publication date

Theme
About the author
Véronique-Marie Kaye
Véronique-Marie Kaye est romancière et dramaturge. Elle a remporté le prix littéraire Trillium pour son roman Marjorie Chalifoux (2015) et a été finaliste au même prix pour sa pièce Afghanistan (2013). Elle a remporté deux fois le Prix O'Neill-Karch du concours provincial d'écriture dramatique organisé par le Théâtre la Catapulte, le Théâtre français de Toronto et le Théâtre du Nouvel-Ontario. Marjorie à Montréal, qui présente le deuxième volet des péripéties d'une jeune ottavienne frondeuse qui a conquis le public et la critique, paraîtra en 2020.
Reviews
No reviews have been written for this book.