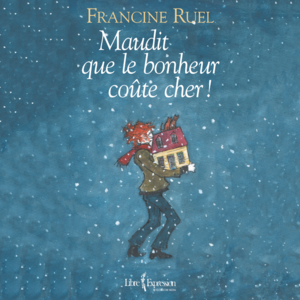 "Après Et si c'était ça, le bonheur ?, Francine Ruel fait revivre son héroïne, Olivia Lamoureux, qui, au terme de ses premières aventures, nageait en plein bonheur dans sa maison jaune , entourée de ses amis et d'un nouvel amour. Dans Maudit que le bonheur coûte cher !, voilà que la vie rattrape Olivia, avec ses hauts et ses bas. Le bonheur a un prix, et parfois il coûte cher. Sa chatte Bouboulina se fait vieille, son amant Harris est de plus en plus absent. Les méfaits de la « minipause » ne lui laissent aucun répit, et de nouvelles rénovations l'accaparent alors qu'elle se croyait désormais à l'abri des experts en travaux de tout genre. Dans Maudit que le bonheur coûte cher!, il y a des joies et des peines, des cris d'allégresse et des grincements de dents, et quelques fous rires. Sans oublier un mariage et deux enterrements, une adoption, une naissance et un voyage en Italie. Olivia pourra-t-elle survivre à ces nouvelles péripéties ? Qui a dit que la vie était un long fleuve tranquille ?"
Book details
Publisher

Language

Publication date

Theme
About the author
Francine Ruel
Francine Ruel « promène » son talent et son imaginaire depuis quarante ans entre le jeu, l'animation et l'écriture. Figure connue du petit et du grand écran, elle a interprété divers rôles dans des films tels Coteau rouge, Aurore et Monsieur Lazhar ainsi que dans des séries télévisées, dont Scoop, qui lui a valu en 1993 un prix Gémeaux pour la meilleure interprétation dans un rôle de soutien. En plus de sa carrière de comédienne, Francine Ruel a touché à tous les types d'écriture : pour la télévision, dans des émissions pour les enfants (Minute Moumoute, Du soleil à cinq cennes, Pop citrouille, Court-circuit) et dans des dramatiques (Un chemin perdu d'avance, Porte de secours, De l'autre côté du miroir, Fermer l'œil de la nuit…), pour le théâtre (Les Trois Grâces, Le Dernier Quatuor d'un homme sourd, Les Sables émouvants, sans compter une participation à la pièce Broue), pour le cinéma (La dernière y restera), pour la chanson (textes pour Louise Forestier, Marie-Claire Séguin et Marie Carmen). En littérature, Francine Ruel a d'abord signé deux romans jeunesse (Des graffiti à suivre… et Mon père et moi) et deux contes pour tous, d'après l'œuvre de Marc-Aurèle Fortin (L'Enfant dans les arbres) et de Marc-Aurèle de Foy Suzor-Coté (Marion et le Bout du bout du monde) pour le Musée national des beaux-arts du Québec. Elle a également publié deux recueils de chroniques parus dans le quotidien Le Soleil (Plaisirs partagés et D'autres plaisirs partagés) et plusieurs romans, dont sa fameuse saga du bonheur, qui s'est vendue à près de 150 000 exemplaires.
Reviews
No reviews have been written for this book.