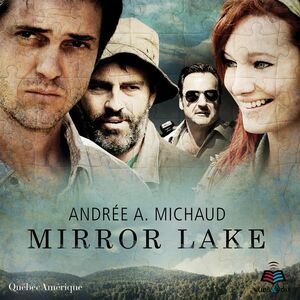 Robert Moreau ne pouvait se douter, le jour où il a mis le pied à Mirror Lake, que les forces du destin s'étaient mises en branle pour transformer son rêve en cauchemar et lui faire perdre ses dernières illusions quant à la possibilité de trouver un havre de paix sur cette planète surpeuplée. N'aspirant qu'à reprendre contact avec le calme et la nature, Moreau apprendra rapidement, avec l'aide de Bob Winslow, son voisin d'en face, que la tranquillité est une notion d'un autre siècle, ce que s'empresseront de lui prouver l'affriolante Anita Swanson, le patibulaire Tim Robbims, le sanguinaire Jack Picard, le cauchemardesque Humpty Dumpty, ainsi qu'un ou deux inconnus ayant décidé de finir leurs jours dans les profondeurs abyssales de Mirror Lake.
Book details
Publisher

Original text

Yes

Language

Original language

Publication date

Theme
About the author
Andrée A. Michaud
Deux fois lauréate du Prix littéraire du Gouverneur géné­ral (Le Ravissement, 2001, et Bondrée, 2014), récipiendaire du prix Arthur-Ellis du roman policier en langue française, du prix Saint-Pacôme du roman policier, du Prix du CALQ – Œuvre de l'année en Estrie et du Prix des lecteurs Quais du polar / 20 minutes de Lyon pour Bondrée, ainsi que du prix Ringuet en 2006 pour Mirror Lake (adapté au cinéma en 2013), Andrée A. Michaud construit une œuvre éminemment personnelle qui ne cesse, depuis son premier roman, de susciter les éloges de la critique et des lec­teurs avides de mystère.
Reviews
No reviews have been written for this book.