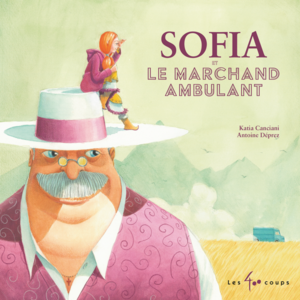 Pour avoir une chance que son voeu d'anniversaire se réalise, Sofia décide de rencontrer Tullio, le marchand ambulant, chaque semaine lors de son passage. Elle ne pourra rien lui acheter, mais qu'importe. Au fil du temps, Tullio lui fait découvrir des mélodies, des odeurs, des saveurs et des textures dont elle ignorait l'existence. Un lien solide se tisse ainsi entre eux. Cependant, alors que la fillette est tout près de voir son souhait s'exaucer, voilà que le camion du marchand ne passe plus…
Un album d'une exquise sensibilité qui raconte l'espoir d'une petite fille d'avoir un grand-père dans sa vie. Katia Canciani nous offre une histoire intimiste où tendresse, émerveillement et persévérance sont à l'honneur. Antoine Déprez, quant à lui, propose des illustrations qui magnifient, avec justesse et émotion, chaque rencontre entre les deux personnages.
Book details
Publisher

Original text

Yes

Language

Publication date

Page count

Illustrator

Theme

Collection

Audience
About the author
Katia Canciani
Quand elle était petite, Katia Canciani lisait tout le temps. Or, à force de lire des romans d'aventures, elle a voulu vivre la sienne et elle est devenue pilote d'avion. Au fil des ans, elle a beaucoup voyagé et sa tête est devenue un aéroport très achalandé... Les idées y décollaient les unes après les autres ! Comme son ciel commençait à se remplir, elle a décidé de faire atterrir ces drôles d'avions... sur du papier ! Katia a ainsi publié quarante-et-un livres pour la jeunesse, deux romans et un récit épistolaire.
Reviews
No reviews have been written for this book.