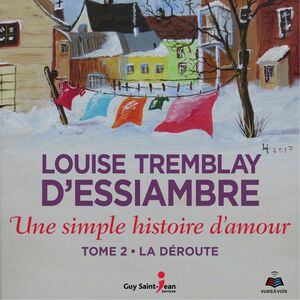 Je vous avais confié à quel point j'étais angoissée d'aborder un nouvel univers et de nouveaux personnages, n'est-ce pas? Finalement, je m'en faisais pour rien. Jaquelin et Marie-Thérèse sont si gentils qu'ils se sont glissés dans ma vie sans le moindre heurt et je me suis surprise à les aimer tout autant que Cécile, Charlotte et les autres.
J'ai hâte de savoir ce que la vie leur réserve. Que du bon, j'espère, car ils le méritent bien. Même ce bourru d'Irénée aurait droit au bonheur, quoi qu'on puisse en penser! Quant aux enfants, ils grandissent vite et ils seront bientôt en âge de faire valoir leurs choix face à la vie. En 1924, auront-ils le droit d'imposer leur vision de l'avenir? Rien n'est moins certain.
Bonne lecture!
Book details
Publisher

Original text

Yes

Language

Publication date

Page count

Theme

Series
About the author
Louise Tremblay d'Essiambre
La réputation de Louise Tremblay-D'Essiambre n'est plus à faire. Auteure de plus d'une vingtaine d'ouvrages et mère de neuf enfants, elle est certainement l'une des auteures les plus prolifiques du Québec. Finaliste au Grand Prix littéraire Archambault en 2005, invitée d'honneur au Salon du livre de Montréal en novembre 2005, elle partage savamment son temps entre ses enfants, l'écriture et la peinture, une nouvelle passion qui lui a permis d'illustrer plusieurs de ses romans. Son style intense et sensible, sa polyvalence, sa grande curiosité et son amour du monde qui l'entoure font d'elle l'auteure préférée d'un nombre sans cesse croissant de lecteurs. Sa dernière série, MÉMOIRES D'UN QUARTIER a été finaliste au Grand Prix du Public La Presse / Salon du livre de Montréal 2010. Elle a aussi été Lauréate du Gala du Griffon d'or 2009 -catégorie Artiste par excellence-adulte et finaliste pour le Grand prix Desjardins de la Culture de Lanaudière 2009.
Reviews
No reviews have been written for this book.