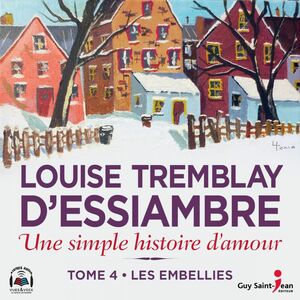 C'est l'heure des grandes décisions chez les Lafrance. Alors que les jumeaux célèbrent leur premier anniversaire, un nouvel enfant s'annonce au sein de la famille au moment où Marie-Thérèse rêve d'une vie différente, plus douce, ailleurs. D'autant plus que les bouleversements se multiplient dans la parenté, avec la maladie, les amours compliquées, la lourdeur du quotidien.
Puis, une fois de plus, un drame plonge le clan dans une douleur immense. Dévastée, Marie-Thérèse rêve de quitter cette maison où le sort s'acharne. Germe alors l'idée d'un nouveau départ. La «grande ville» offre des options tellement alléchantes… Jaquelin accepterait-il un changement de vie aussi radical? Son amour pour son épouse suffirait-il à le convaincre d'enterrer le passé et de se tourner vers un avenir prometteur, mais angoissant?
Riche en émotions et en rebondissements, ce quatrième et dernier épisode de la vie chez les Lafrance témoigne du courage et de l'amour d'un couple uni et du soutien des membres d'une famille dont les valeurs de loyauté et de solidarité sont aussi robustes et profondes que leurs racines. Une série inoubliable!
Book details
Publisher

Original text

Yes

Language

Publication date

Page count

Theme

Series
About the author
Louise Tremblay D'Essiambre
La réputation de Louise Tremblay-D'Essiambre n'est plus à faire. Auteure de plus d'une vingtaine d'ouvrages et mère de neuf enfants, elle est certainement l'une des auteures les plus prolifiques du Québec. Finaliste au Grand Prix littéraire Archambault en 2005, invitée d'honneur au Salon du livre de Montréal en novembre 2005, elle partage savamment son temps entre ses enfants, l'écriture et la peinture, une nouvelle passion qui lui a permis d'illustrer plusieurs de ses romans. Son style intense et sensible, sa polyvalence, sa grande curiosité et son amour du monde qui l'entoure font d'elle l'auteure préférée d'un nombre sans cesse croissant de lecteurs. Sa dernière série, MÉMOIRES D'UN QUARTIER a été finaliste au Grand Prix du Public La Presse / Salon du livre de Montréal 2010. Elle a aussi été Lauréate du Gala du Griffon d'or 2009 -catégorie Artiste par excellence-adulte et finaliste pour le Grand prix Desjardins de la Culture de Lanaudière 2009.
Reviews
No reviews have been written for this book.