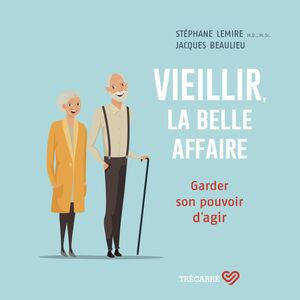 Suis-je normal ?Comment améliorer ma situation ?Ce n'est plus de mon âge…Ce n'est pas drôle de vieillir !Phénomène inévitable, le vieillissement permet en général de vivre pleinement et de manière plutôt autonome bien qu'à un rythme moins effréné. Comme «vieillissement» n'égale pas toujours «diminution de l'état général », il ne faut pas tout attribuer à l'âge. On raterait des occasions d'améliorer sa santé et sa qualité de vie. Cet ouvrage présente une approche globale du vieillissement. Il décrit ce qu'il est normal de « subir » et vous permet de vous situer selon ce qui est attendu pour chacun des aspects suivants : physique (mobilité, ostéoporose, syndrome de fragilité, alimentation, digestion et élimination, médication, effets combinés de la polymédication), intellectuel (pertes cognitives), psychologique (deuils, isolement) et matériel (finances, gestion des biens).Se préparer à vieillir,c'est se préparer à mieux vivre…plus longtemps.
Book details
Publisher

Language

Publication date

Page count

Theme
About the author
Stéphane Lemire
Interniste-gériatre, le Dr Stéphane Lemire est diplômé en médecine de l'Université de Sherbrooke. En 2013, il contribue à mettre sur pied la Fondation AGES (fondationages.org). En 2014, il collabore avec des organismes communautaires et les professionnels d'un CLSC pour la réalisation d'un projet pilote de gériatrie sociale dans le quartier Saint-Roch, à Québec, de façon à « ajouter de la vie aux années ».
Jacques Beaulieu
Doté d'une formation universitaire en sciences biologiques aux universités du Québec à Montréal et à Trois-Rivières et en microscopie électronique à l'Université de Toronto, Jacques Beaulieu a signé près de 20 livres de vulgarisation de la médecine avec différents médecins et spécialistes de la santé.
Reviews
No reviews have been written for this book.