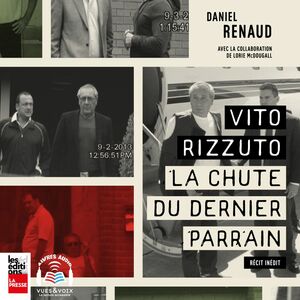 Dans sa cellule du pénitencier à sécurité maximale de Florence au Colorado, où il a été détenu durant plus de cinq ans de l'été 2007 à octobre 2012, l'ancien parrain de la mafia montréalaise Vito Rizzuto ruminait deux desseins : venger le meurtre de son fils Nicolo et reprendre sa place au sommet de la pyramide du crime organisé au Québec. Au coeur de sa vengeance, qu'il a commencé à assouvir avant même son retour à Montréal, à l'automne 2012, une liste de personnes à abattre. Grâce à des informations et des témoignages inédits, LA CHUTE DU DERNIER PARRAIN relate la fin du règne de Vito Rizzuto, de l'enquête Colisée à sa mort soudaine en décembre 2013, en passant par ses craintes envers la justice américaine, sa fuite temporaire à Cuba, son arrestation, son extradition, sa détention aux États-Unis, son retour dans le sang et la reprise éphémère de sa couronne. Cinq ans après son décès, des questions demeurent. Y aura-t-il un autre parrain à Montréal un jour ? Y aura-t-il encore une mafia italienne telle qu'on l'a toujours connue ?
Book details
Publisher

Language

Original language

Publication date

Contributions author

Instrumental soloist

Theme
About the author
Daniel Renaud
Daniel Renaud est journaliste aux Affaires criminelles à La Presse depuis octobre 2012. Avant de travailler pour Le Journal de Montréal et Rue Frontenac, il a œuvré douze ans dans le milieu de la télévision, à TQS et TVA. Il a aussi été journaliste pour la défunte station de radio montréalaise CJMS. Les affaires policières sont pour lui une passion.
Reviews
No reviews have been written for this book.